Welcome to High Brix Gardens
The Case FOR Nutrient Dense Foods - The Case AGAINST Genetically Modified Foods

Dr. Arden Andersen--soil scientist, physician, and world-renowned consultant in sustainable agriculture--has graciously granted International Ag Labs permission to make this CD available to you.
The message in this CD is for today and one that every discerning American needs to hear. Arden does a remarkable job of explaining the role that food quality and nutrient density play in keeping us healthy and the importance of knowing where your food is coming from and making sure it comes from a pure source that's not contaminated with pesticides, fungicides, harmful chemicals, and genetically modified seeds.
You have our permission to make copies of this CD to pass around to friends and neighbors.
To Request Your Free CD
The following form is to be filled out by those living in the USA only.
If you are living OUTSIDE the USA, CLICK HERE to request your free copy of our CD.

To request a free copy of your CD, the following form is to be filled out by those living OUTSIDE the USA only.
In this telephone interview I had the privilege of discussing with Lynn Hoag how he has planted fruit trees for over 40 years by a unique method that he learned when he was a young teenager. The results are astounding as the pictures below will attest to. More information on the two trees are given in the download. The small tree was planted by U.S. Forestry method and the big tree was planted by the method described in the teleseminar. And yes both trees were planted on the same day and both were just 6 inches tall when planted 3 1/2 years prior to taking the pictures.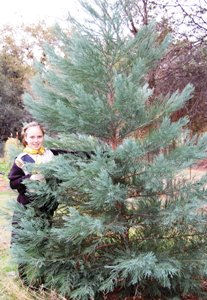 Get the free MP3 download of the the Fruit On Steroids? telephone interview. Fill out the form below and we'll occasionally send you related High Brix information.