Welcome to High Brix Gardens
Carey A. Reams (1903-1985) was a man ahead of his time. Trained in mathematics, biophysics, and biochemistry he made many discoveries in the fields of human health, plant growth, energetics, animal health, and soil restoration. These findings were later codified in an overall view of life and energy known as Reams Biological Theory of Ionization (RBTI). Reams summarized his beliefs by saying:
God is the basis of life, life is the basis of energy, energy is the basis of matter.
Throughout more than 5 decades Reams worked as a consultant, researcher, and lecturer. A significant milestone in Reams' life occurred in 1931. During a period of prayer and fasting Reams received a divine revelation of the biochemistry numbers for humans in perfect health.
Foundational for Reams' life and success as a scientist was his faith in God. As a disciple of Jesus he sought to live his life according to the biblical standard. He began every day of lectures with morning devotions and always encouraged his students to follow biblical precepts. Reams emphasized that the major distinction between Christianity and any other religion is Christ's empty grave. No other religion has an empty grave.
As a mathematical genius Reams was very familiar with Einstein's energy equation and understood its significance. During his many years of friendship with Albert Einstein he once chided him saying 'you know how to take matter apart but you don't know how to put it back together again.' Einstein immediately shot back that figuring out how to do that was a job for Reams.
According to Reams, "Ionization is God's laws putting things together and taking them apart ion by ion." Dave Larson, a student of Reams and Skow, put it this way; "Biological Ionization is the study of how energy becomes matter and how matter becomes energy on a continuous basis." According to Reams, RBTI offers a way to measure the energy in elements, compounds, and biological systems including humans. The loss of energy in humans is the beginning of disease. More information on this subject can be learned by reading Reams' book "Choose Life or Death," available from Pike Agri-Lab Supplies.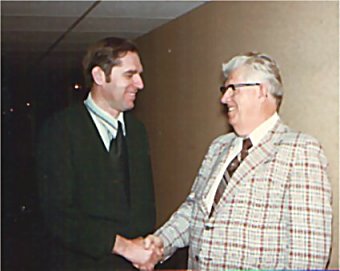 Carey Reams and Dan Skow
Ream's contribution to agriculture was just as significant as his contribution to human health. Reams taught that the functional foundation of nature is electromagnetic and that the chemistry of nature is secondary. Reams applied this concept to plant growth. He maintained that plants grow through the process of ionization-similar to an electroplating machine. Likewise soil fertilization is done from an electromagnetic perspective as well. This is done by balancing the positive and negative charges. Fertilizers are viewed as energy packages used to build and balance the electromagnetic field of the soil. The minerals in the fertilizers carry specific energy forms. These energy packages (fertilizers) react with opposing charges in the soil during the process of synchronization. This synchronization of opposite charges provides a release of energy, which drives plant growth. More information on RBTI as it relates to agriculture can be learned by attending a Reams' Basic Soil Seminar.
International Ag Labs continues to carry on the legacy and teaching of Carey Reams as it relates to plants and soil. In addition to an annual soil seminar we also provide Lab Analysis and crop consulting.
Headed by Dan Skow D.V.M., Wendell Owens, and Jon Frank, International Ag Labs strives to look at the whole picture when we do fertility recommendations. This includes looking at nutrient balancing and soil biology through the eyes of electro-magnetism. This vantage point allows us to see the health of the whole forest and not just minute details about a few trees so to speak.
High Brix Gardens is an undertaking of International Ag Labs. For the past 25 years International Ag Labs has been a leading proponent of quality foods and animal feedstock. Our approach has been to help farmers achieve quality by enhancing nutrient availability, microbial stimulation, and plant health.
Meet Carey Reams – 1930
Our philosophy rests on the teachings of Dr. Carey Reams who laid the nutritional foundation required to keep disease at bay while producing optimum yields of top quality. While researching foods during college, Dr. Reams discovered that foods vary considerably in quality, taste, and nutrient content. This led him on a quest to find out why. As a progressive agricultural engineer based in Orlando Florida, Reams discovered the specific requirements needed to grow top-quality food. His principles and concepts were later codified into a theory known as Reams Biological Theory of Ionization or RBTI for short. Dr. Reams began to publicly teach classes on his discoveries starting in the 1970's.
Meet Dan Skow – 1976
Dan Skow DVM, a practicing veterinarian, first met Dr. Reams in 1976. Dan studied the teachings of Dr. Reams for a number of years. They later teamed up to teach many agricultural courses together. During this time Dan became the leading agricultural student of Dr. Reams to carry the mantle to the next generation. Dan's close relationship with Dr. Reams lead to a new business for Dan that included soil testing, consultation, and product formulation. Dan continues to teach Dr. Reams' method of agronomy thru classes and ongoing consultation.
Meet Wendell Owens – 1985
In order to keep his business active, Dan contacted Wendell Owens, a longtime associate and local farmer to manage operations. Initially Wendell was a one-man wonder doing all the work of soil testing, phone consultation, and product sales. Soon the business was growing and needed proper facilities and more staff. At this point Wendell bought into the company and has continued to manage operations. Wendell makes most of the fertility recommendations for International Ag Labs. Wendell, along with his son-in-law, Kevin, farm over 300 acres and manage a beef herd. They farm about half the land organically and the other half biologically. Wendell brings many years of practical farming experience to the table as he makes fertility recommendations.
Meet Jon C. Frank – 2001
The influence of International Ag Labs was felt way beyond the borders of the U.S. all the way to India where Jon was serving with a church-planting mission organization. Jon's burden was to learn land and soil restoration and eventually take it back to the mission field. Jon started working for International Ag Labs doing clerical and administrative work in 2001. By 2005 he had bought into the company. At the same time Jon felt that International Ag Labs needed to focus specifically in helping gardeners grow nutrition in their backyard. This led to the development of the High Brix Garden method and this website. Jon is active in promoting the concept of nutrient dense foods and its impact on human health all from the perspective of stewarding the land on behalf of its Creator. Jon keeps busy these days with phone consultations, fertility recommendations, and product development.
Meet The Next Generation – You!
Today more and more people are recognizing the need for nutrition in the form of quality food, not pharmaceuticals, not nutraceuticals in a bottle but rather nutrient dense foods that truly nourish and sustains health. The future of your health is in your hands. You can grow your own nutrition!
We hope this website encourages you down a path leading to physical, mental, and spiritual health.
Wendell, Jon and the staff at International Ag Labs